Thank you for your participation!
World Café on June 7th 2018
3 – 5.30 pm
OCG Wollzeile 1-3, 1010 Vienna
Digital literacy has become one of today's key-prerequisites in both professional and private life. Tasks such as navigating through an unknown city, writing an email, arranging a business meeting or learning a new language, call for a competent handling of devices (e.g. smartphones, computers, tablets etc.).
Many children and young people, especially from socially disadvantaged groups, however don't have access to digital devices, preventing them to acquire knowledge in a variety of disciplines and transversal skills. To enhance the digital education possibilities of children and youth in the context of minorities, mainly Roma, the Vienna University of Technology initiated the Erasmus+ project "Head in the Clouds" in coorperation with six international partners.
The World-Café event invited visitors to get to know the project, try out the developed educational materials and provided room for discussion and exchange of experiences and best practice examples between the visitors and project representatives.
The six learning boxes include the following topics:
Video Making
IT education
English
Environmental education
Programming
Real Life Challenges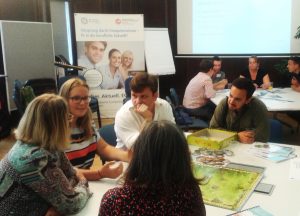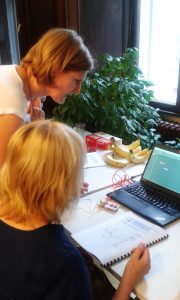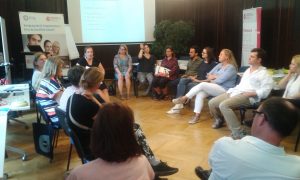 Copyright Head in the Clouds Consortium – Picture by SCIO
We are glad that the event attracted participants from various institutions!
Here you can download the Flyer of our past event, "World-Cafe" in Vienna: Flyer World Café