Digital Learning to overcome School Failure
The Vienna University of Technology together with six partners in five countries is currently (until august 2018) implementing a strategic partnership in the field of school education. This Erasmus+ project deals with the prevention of early school leaving, the development of basic and transversal skills and the enhancement of digital education in the context of minorities, mainly Roma. Educational disadvantages and exclusion lead to lacking integration in the labour market and exclusion from society in general, which is a vicious circle in minority communities this project wishes to break.
In three locations in Slovakia, Romania and Kosovo the project implements an innovative educational approach to tackle the issue with more than 75 participating children and youth. In their afterschool and youth programmes teachers and youth wokers use "SOLE-boxes" and specifically designed learning materials to engage students and youth in their own learning process. SOLE stands for Self-organized Learning Environments and respresents a widely recognized alternative educational method that supports an individual learning process according to a student's abilities, needs and interests.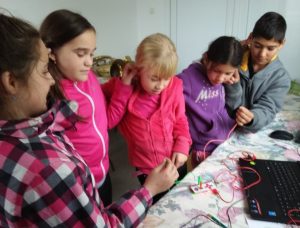 The project started with a needsassessment to tailor the educational materials to the local contexts and needs. Mentors and youth workers were given the opportunity to experience the accordingly developed tools and materials in the framework of special trainings and subsequently implemented the same with the target groups and evaluated them. The team observes the changes in learning disparities, school attendance, school leaving, pursuit of careers and rise in transversal skills like digital competences. Based on the evaluation tools and materials will be improved and again trained to teachers and youth workers. After the three years the partners working with the target groups directly will continue their implementation of the methods, tools and materials – learning with their children and youth in the clouds.
Sponsored by: