All tasks given to the children were linked through a QR code on the top right  to an online portal in which the children could hand in their answers, videos, pictures etc. You can see an example here: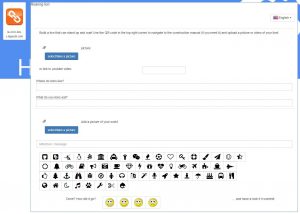 Each task online had
the explanation of the task,
the possibility to write, upload a picture or video and other – depending on the task -,
a general possibility to upload extra pictures,
the student icons to be pushed, showing which one of them participated in coming to the answer, and
a bar of smileys to press for handing in, showing how content or not happy they were with the task itself.
The information generated here allowed the teachers to keep updated on the work of their students in a more detailed way than just observing the group, and it allowed the developers to get immediate feedback on the tasks they had created. It documented what had been done, by who (individuals and teams), with which success, when and in combination with which other tasks before and after, how was it perceived by the children etc.
The feedback from the educators went even further, as the tasks were linked to a set of competences which learners developed when working a certain tasks. The competence model was based on the ATC 21st century skills and edited with skills specifically applicable in the educational material of this project, such as detailed programming skills. The educators therefore with one look could understand which task was done by whom and what they had learned from it.